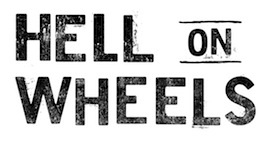 SPOILER ALERT: This story contains details of tonight's startling Hell On Wheels episode.
EXCLUSIVE: Most series save the death of a major character for a dramatic season finale, but not AMC's Hell On Wheels — not this year. Halfway through its fourth season, the post-Civil War-set show killed off one of its most beloved and original characters tonight with the death of Elam Ferguson, played by Common.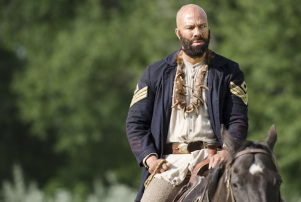 "It pulled at my heart because I really cherish the character Elam," the actor and rapper said of the demise of the former slave, courtesy of a bullet from his de facto partner Cullen Bohannon, played by Anson Mount.
"We needed Bohannon in that decision point where he decides to kill him, it's a mercy killing," showrunner John Wirth told me of the long-held plot secret. "Having our hero end his friend's life in that way is tricky and I wanted it to be very clear that there were no other options as far as Cullen Bohannon saw."
RELATED STORY
AMC's 'Hell On Wheels' Season 4 Debut On Par With Last Year
Despite his absence for much of the current season, Elam and the actor who portrays him have been a significant part of Hell On Wheels since the pilot. Still, the decision to kill him off was ultimately a consequence of Common's desire to devote more time to his Grammy-winning hip-hop career.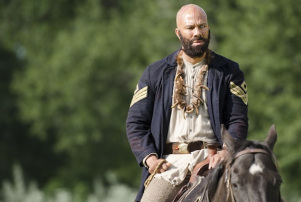 'The way it came together was Rashid called me last year just before Christmas," explains Wirth (citing the performer's real name, Lonnie Rashid Lynn Jr.). "This was after we had wrapped Season 3 and we were on hiatus. He told me that he thought maybe it was time for him to leave the show."
"I got to say it wasn't the easiest thing for me to do, but I have a lot of aspects to my career that I wasn't able to nurture being up in Calgary for so long every year filming Hell On Wheels," Common says of the decision. "Acting is very, very important to me, but music is very important to me too."
"This is a full-time job and it's also a seasonal job, and the seasons of touring are basically the spring and the summertime when we shoot the show," says Wirth. He was speaking from the set of Hell On Wheels' current season with the Canadian West substituting for mostly lawless 1867 Wyoming. "So, for three years, Rashid had to put his music commitments on hold."
Though Common has far from given up on his acting career, once the decision to exit the series was made, the multi-tasker jumped right back into his music. To that end, Common's 10th studio album came out this summer and he's been playing live across the country, including a show tomorrow in Las Vegas.
"Look, no one ever leaves Hell On Wheels alive, so we knew that if he was going to leave, he would have to meet some sort of appropriate and tragic end," says Wirth of the Elam character. "I would say to our fans that sometimes life dictates what art can be, and I hope that they will accept that we made this decision not because we were trying to mess with their heads at all," he explains. "We made the decision because there were life considerations that came to bear on the decision."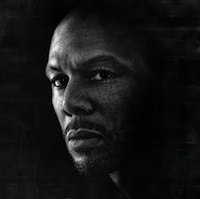 And as much as Common's wish to leave HoW "crushed" the showrunner when the actor first broached the subject, Wirth now sees the move as a blessing in disguise. "It's reinvigorated everybody here," says the veteran producer, who has been in charge of the show since creators/EPs Joe and Tony Gayton's contracts were not renewed in late 2012. "It's reinvigorated our storytelling. It's given us incredibly dramatic opportunities to put on film which we wouldn't have had."
Opportunities are something HoW has never been bad at grabbing hold of. Overshadowed by AMC's past and present blockbusters like Breaking Bad and The Walking Dead and even the now-renewed freshman Turn, HoW has nonetheless proved a steady quiet success for the cabler.
In what many presumed to be a kiss of death, the show's 2013 move from Sundays to AMC's Western-themed Saturdays for its third season actually resulted in HoWamazingly topping its Season 2 average. Not only that, the drama about the bloody building of the Transcontinental railway across America has more than doubled AMC's Saturday primetime audience.
The show has average around 3.3 million viewers in Live+3 results in both Season 3 and Season 4 so far over six episodes since the Entertainment One and Nomadic Pictures produced series' August 2 debut. The return of the Elam character in HoW's September 6 show drew 2.15 million total viewers in Live+Same Day and 3.42 million viewers in Live+3. That's the best overall viewership result this year behind the Season 4 debut. Halfway through its current season, Hell On Wheels hasn't officially been renewed for a fifth run, but insiders indicate that the show's Saturday strides makes the announcement of another season a matter of when not if.
As fans of HoW know, the end of Season 3 saw Elam attacked by a bear as he was on a rescue mission for the then-captured Bohannon. When Season 4 began last month, the character hadn't returned but wasn't written out of the series. "Originally, I thought he would be discovered by Native Americans and taken back to their village and that he would recuperate with them and then would eventually make his way back to Cheyenne," says Wirth on the last days of filming of HoW's Season 4.
As last week's episode revealed, Common's decision to exit the series partially saw that outcome, only much more scarring, traumatic and violent results.
"We decided that one of the bear's incisors would go through his skull and pierce his brain and then from that there would be infection," explains Wirth of the now-ravaged and merciless Elam that returns with a trio of women he wants sell as slaves. "That would lead to a significant brain damage for him in terms of long-term memory and decision-making and his ability to feel pain. That injury really transformed Elam into Bear Man.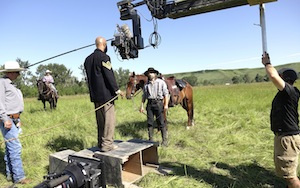 "Mark Richard, our executive producer/writer, had said to me, 'You know he has to die and there's only one person who can kill him and that's Cullen,' " Wirth adds. "We knew we didn't have much access to Common, so we tried to limit the number of episodes that we could tell the story in and we thought two was a good number." Though AMC originally wanted to hold off on Elam's death until season's end, HoW's showrunner successfully argued for another approach. "It wasn't a bad idea but it felt like a cheat to me to carry our audience through 11 episodes telling them that this character was dead and then have the character suddenly show up," Wirth says.
Having the character return so damaged and facing off against his closest friend who is trying to save Elam's life felt exactly the way to go for Common. "I thought it was a brilliant way to give Elam an exit," he says of the episode penned by Richard and Thomas Brady. "I think it paid honor and respect to him and it is unexpected and it is shocking and it shakes you and rattles you." Wirth has nothing but praise for both Common and lead Mount. "Common's performance in these two episodes is the best work I've seen him do on film and in order to get that kind of performance, you have to be acting with somebody," he says. "If you look at the work that Anson's doing in this episode, it's phenomenal."
Of course, this being television, just because Elam is gone doesn't mean he couldn't show up again. "I've been saying to the writers lately, 'Can you all bring him back some way,' like a flashback or something," half-jokes Common.
"We don't really do flashbacks very often, and even as I say that I'm aware that we are doing it this season in one instance and people have appeared on the show who are dead," says Wirth. "But you never know," he deadpans. "It's possible."